Vallejo Native and Breeder of Rare Dogs is Both 'Particular' and 'Responsible'
By Jessica A. York
Vallejo Times Herald
Posted 1/17/2010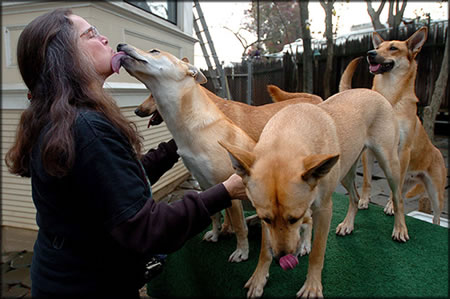 Dog breeder, Susan Anthony, works with her Carolina dogs at her home in Vallejo. (Chris Riley/Times-Herald) One Vallejo native proudly considers herself the keeper of a rare genetic line. Susan Anthony said she is the only West Coast breeder of the rare Carolina dog puppies, possible descendants of some of the country's oldest canines. Right now she's urging people to find homes for displaced dogs, rather than breeding more of her own.

Though Carolina dogs are considered a rare breed and Anthony is among a select group of the dog's recognized breeders, she said she tries to keep a low profile in Vallejo. Four of Anthony's dogs, on the other hand, raised a cacophony of barks, hooked tails waving and ears pointed skyward, when visitors arrived at her home on Friday. The russet-red-coated dogs, with creamy undercoats and dark muzzles, were soon distracted by an even higher priority: The promise of snacks if they behaved. "Come on Madonna, up, up," Anthony directs one dog, urging it off the stone slab-covered courtyard and onto a picnic table.

Anthony said her goal is to teach her charges to listen to voice commands, to stop and think before every action, 'what does my trainer want' before heading off for their own pleasures. Anthony said she is very particular with whom she places her dogs. Her canines, believed by some to be descendants of the historic American dingo, engage in shared pack leadership -- the domesticated pups are like a school of fish or "Velcro dogs," as Anthony describes them. So, when they move into a home, the dogs turn their human family into their pack -- a family they are very protective of, Anthony said.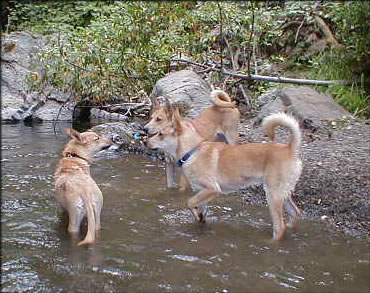 The dogs, some of which still can be found in the wild -- mostly in the Southeast -- strongly resemble the Australian dingo, according to experts. Anthony first fell in love with a family of Carolina dogs in the 1980s. In 2002, she contacted Don Anderson, of the Lynches River Kennels in South Carolina, for permission to begin her own breeding work.

Anthony cannot begin to estimate how many dogs she has placed with families through the years, sharing some concern that releasing the number could get her in trouble with the city's set limits for dog ownership. She explains how the dogs love to run free, another habit that brings her up against city leash laws. Benicia-Vallejo Humane Society Animal Control Director David Sidie said he spoke with Anthony last week about the issue. "She's limited to the city growing," Sidie said. "There's not a lot of (enclosed) places you can take a large group of dogs and work with them ... I don't know how many she has." Sidie went on to note that Anthony "seems very ethical about how she keeps her dogs," and that animal control officers have not reported finding any of her dogs in ill health. "At the Humane Society, we respect that she's a responsible breeder," Sidie said. "The only issue we've had with her recently is where she can run her dogs."
---
HOME